20 Content Marketing Best Practices Essential For Your Success
November 1, 2016 - Content Marketing, Content Strategy
Content Marketing Best Practices to Elevate Your 2017 Content Strategy
Content Marketing is an absolute must for businesses looking to make deeper connections with their audience. It's not just the latest buzz word of the day. It's a critical element of any marketing strategy. But, there are right ways and wrong ways to think about your content marketing strategy. We've rounded up our top 20 content marketing best practices that every business should consider when creating their content marketing strategy.
1.  Create a Content Marketing Strategy
Every business should, at the very least, define the who, what, where, when, why and how of your content marketing plan. A well-thought out content marketing strategy will set the tone for your content marketing efforts, provide a baseline from which to measure your results and a guide to keep you on track with your efforts. If there is only one content marketing best practice you adopt – this should be it!
2. Establish Your Content Marketing Goals and Objectives
What is the purpose of your content marketing? Knowing what you want to achieve via content marketing, whether it is generating awareness, driving engagement or nurturing leads, be clear about those goals and objectives from the start. This will be your guide to everything you do going forward.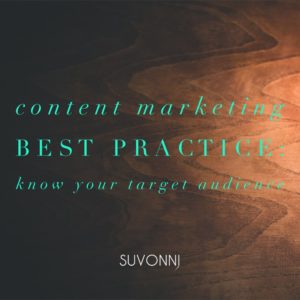 3.  Know Your Target Audience
Understanding your target audience, what their needs and wants are, and how you can best serve them is essential to developing a successful content marketing strategy. Uncovering the unmet needs of your audience is a true sweet spot for content marketers. Being mindful of where, when and how your audience consumes content will impact the type of content you provide and the channels you utilize.
4.  Always Provide Value
The best content marketers are those keenly in tune with what their audience craves. Ensure that your content is purposeful and provides value to your audience each and every time. In doing so, you will gain the trust and loyalty of your target audience time and time again.
5.  Utilize an Editorial Content Calendar 
Ad-hoc content marketing will only get you so far. Stay on track and keep a consistent drumbeat by creating an editorial content calendar that highlights content themes, content types, distribution channels and more. Create a calendar that works for you and your business… whether that is a detailed 12-month plan or a simple monthly plan. The key is to map it out and stick to it.
6.  Be Consistent 
Consistency is key in content marketing. Establish what type of drumbeat makes sense for you and your target audience. When you are consistent, your audience is trained to expect great content from you. They begin to rely on you for the value you provide. They become loyal. When you produce content on an ad-hoc basis, it's like starting over again each time.
7.  Balance Content Creation with Content Curation 
Not all of your content has to be originally produced content. Sharing other relevant content that complements and adds value to your own content is a great way to stay consistent and extend your thought leadership. You can help build your audience by drawing them in with curated content. Knowing your audience and your ability to produce content will help define the right balance for your business.
8.  Repurpose Your Best Content 
When you take the time to create great content, maximize the life of it by creating a repurposing strategy. Repurposing your content allows you to share your originally created content, while not spending a ton of time starting from scratch. Check out our article on 3 smart ways to repurpose your content.
9.  Be a Great Storyteller  
The best content is that which tells an intriguing story. It has elements of a great book… suspense, action, emotion, drama, intensity, entertainment and more. Content marketing is about delivering the answers to the questions your audience is seeking, giving them utility in the form of value and doing so without the pressure of them feeling like they are being sold to.
10. Think Quality Over Quantity
Being consistent is critical for content marketing success, but marketers should never put quantity over quality. Bad content that provides no value or purpose can do more harm than good. Every piece of content produced should be run against the test of "does this provide value to my target audience?" If the answer is no… then you are creating/sharing content simply for the sake of creating/sharing content.
11. Ensure Your Content is Shareable
Creating great content is one thing… ensuring your target audience finds it is another. Ensure that your content is shareable by making it very easy and obvious for visitors to share on social networks, via email or other channels. Make key takeaways tweet-able, craft your meta descriptions carefully and create images designed specifically for social sharing. Adding social share buttons to your blog and/or links to your content will help make it more shareable amongst your audience.
12. Create Discoverable Content
You have great content and you want it to be discovered! Use smart keyword strategies and SEO techniques to optimize your content for search. The key is to not focus on writing your content for search engines, but the humans that will consume your content. If your content provides value and is high-quality, your target keywords should naturally be evident. When sharing on social, using those same keywords or hashtags can aid in being discovered across different channels.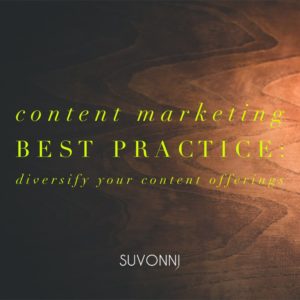 13. Diversify Your Content Offerings
Try different formats and channels to share your content. Content can come in many different forms, from white papers and blogs to infographics and podcasts. Keep your content fresh and current by utilizing different types and styles. This is a great way to repurpose content as well. Think of the possibilities of converting written to visual and everything in between. Create content your audience will love to consume.
14. Use Content to Differentiate
Content marketing can be a great tool for marketers for so many reasons. One of the biggest opportunities with content marketing is to use it as a means of differentiation. Look at what your peers and competitors are doing with content marketing and think about the ways to do things differently. There is a lot of content noise out there – how will you differentiate yourself and get noticed?
15. Balance Evergreen and Trending Content
There are benefits and drawback to both providing evergreen (long lasting) and trending (short life) content. Striking a balance between the two (most likely with the scale tipping more on the side of evergreen content) will allow you to enjoy the benefits of both. Taking advantage of trending topics allows you to be current and ride the wave of excitement regarding news-worthy content. Evergreen content allows you to repurpose it over and over again, reducing the need to constantly create new content. Find a balance that works for you.
16. Be Creative
Creativity can be a key differentiator for your content. Using visuals and video are great ways to add a creative flare to your content. Think about how to structure your content creatively to make it stand out. Craft a Q&A as an Infographic or do a livestream video of your podcast recording. Give your audience a different angle to make your content even more interesting.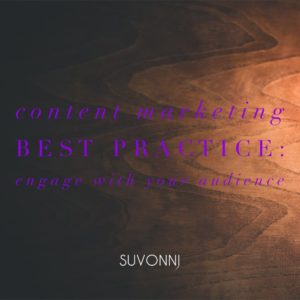 17. Engage With Your Audience
Content marketing should not simply be broadcasting your content across as many platforms as possible. When you provide great content that your audience finds value in, they are likely to respond to that content. The key is to be there and engage in the conversation about your content. Ask questions, answer questions and extend the conversation at every given opportunity. It shows that you care about your audience and they begin to further know, like and trust you through this engagement.
18. Always Be Testing
Content marketing offers a great opportunity to test different formats, new marketing channels, different value-drivers or new audiences. Smart marketers reserve about 10% of their content marketing efforts to trying new things. Your efforts might not always pan out, but staying innovative and testing new opportunities will keep you on the forefront of what's new in content marketing.
19. Drive Traffic and Nurture Leads with Content
While the purpose of content marketing is not direct selling, it doesn't mean that you cannot drive traffic and/or nurture leads through very specific and purposeful calls to action. If you provide highly valuable content, think about how you can generate leads utilizing a lead magnet or by directing your audience to a landing page.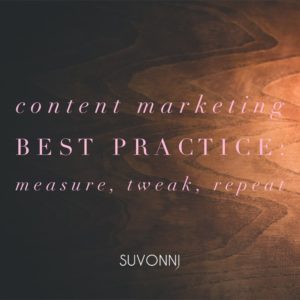 20. Measure, Tweak, Repeat
If you have taken the time to create a content marketing strategy, one of the key elements of that will be your goals and objectives for content marketing. When you have this set, you can use it has an indicator of your performance. Look at your key performance indicators to evaluate your content efforts and make any necessary tweaks to adjust your strategy. It's a continuous effort, but overtime you will recognize patterns of success, what your audience responds to and the type of content that delivers optimal value to both your audience and your business.
Key Takeaways: 
Adopting these 20 content marketing best practices into your strategy will set you up for success. It all starts with a smart content marketing strategy that outlines your purpose as well as the who, what, where, when and how of your content marketing efforts. Measure your efforts and tweak your strategy often to ensure you are always putting your best foot forward. Have any content marketing best practices to add to the list? Tweet us and let us know!  
Want more Content Marketing and Strategy tips and insights?  Download our free eBook: Mastering Content Marketing and get tons of pro-tips, actionable insights, and recommendations on creating a killer content marketing strategy.  Click on the button below!


If you liked this article, we encourage you to sign up for our  bi-weekly Newsletter for all our updates!  Thanks for reading our blog!
YOU MIGHT ALSO LIKE THESE