4 Must-Try New Twitter Tools to Elevate Engagement, Discover and Share Content and Increase Your Social Media Productivity.  
1.  Buffer 

Why it Rocks:  It saves you time!  If you like to tweet – then you will love this new twitter tool!  You can use Buffer for a more balanced tweeting schedule – simply, effectively and efficiently.  From the Dashboard, you can view your Tweets (as well as Facebook and LinkedIn updates) in your "Buffer" – with the option to reorder, edit and see your overall schedule of postings.  Buffer makes it really simple to set your pre-determined tweet times in the settings, load up your content, make adjustments as necessary and then let the tool do it's work – allowing you to have a consistent presence in social media throughout the day (and/or night!).  Of particular interest are the "Extra's" which allow you even greater ease and flexibility in your ability to share what's interesting – including browser extensions that allow you to schedule a tweet effortlessly.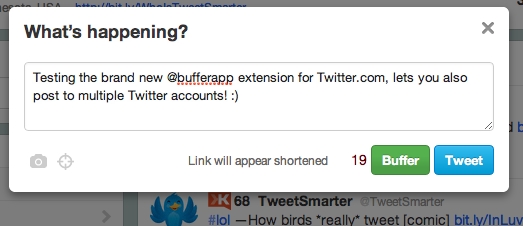 Bonus!  Buffer just added these 3 awesome new features to make your life even easier:
From Facebook.com you can Buffer status updates, pictures and links
On Twitter.com you can Buffer new Tweets or Retweets
Inside Google Reader, you can add any article to Buffer
To learn more about these new features and more, check out the latest Blog on Buffer

Why it Rocks:  The native Discovery on Twitter has recently been updated to be more relevant and help you discover content that is personal to you.  The newly designed feature within Twitter provides you with stories that take into account your own personalization cues and those which are popular amongst the people you follow (and they people they follow).  Based on a complex algorithm, Twitter does the magic behind the scenes, determining which links are most popular and important to the user, and then turns those links into stories that are further prioritized in real time.  Not only does this provide a more robust and meaningful way to discover new content, but for marketers it provides another opportunity for your audience to discover your content.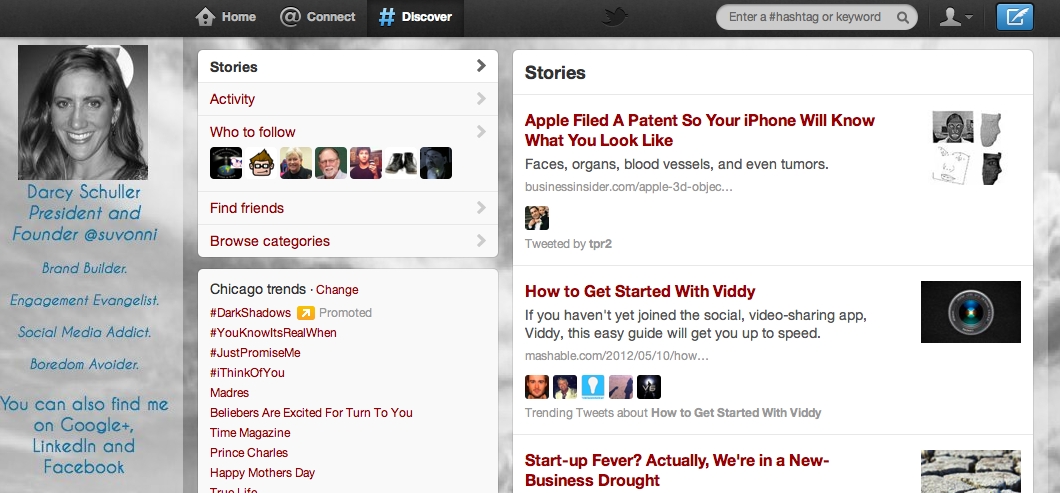 Twitter is rolling out this new enhanced Discovery tab to all users.  Just look at the top of your Twitter Dashboard for the #Discover tab.
3.  Twylah 

Why it Rocks:  A fantastic new twitter tool that extends the life of your tweets and provides you with the opportunity to engage with your audience on a deeper level (even those who aren't on twitter!).  With Twylah, you own your traffic, your content and the way in which you present it.   Twylah also offers a cool little function called the Power Tweet which allows you to create a custom landing page that includes your tweet and any links, as well as related tweets.  Thus, if a topic interests your audience, you are giving them more of what they like.  Twylah also offers the ability to host (and custom design) your Twylah page right on your own domain/website as well… further increasing reach and engagement.  It brings your brand, messaging and trending interests to the forefront and allows your content to be more discoverable.  Check out my newly created Twylah page!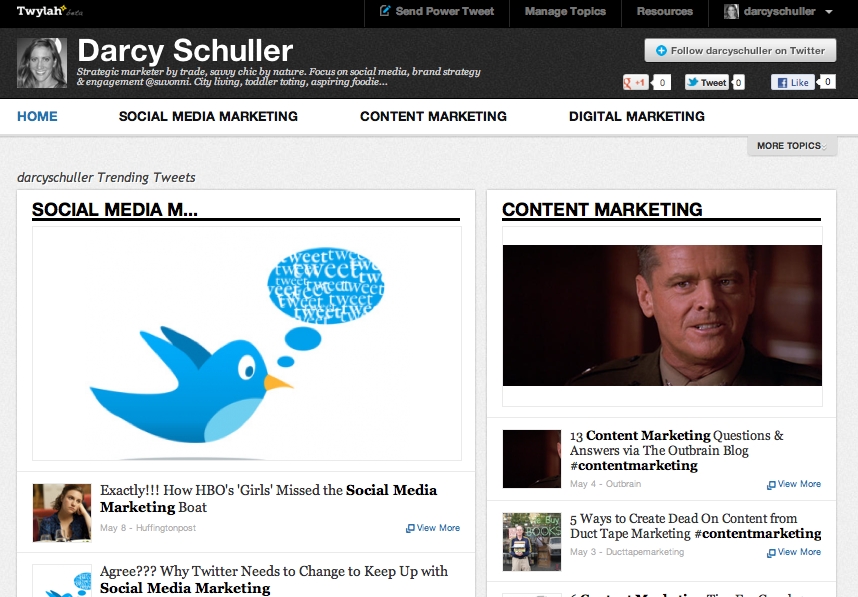 Twylah is currently in Beta, but you can request an invite and be one step closer to taking your tweets to a whole new level.
4.  TweetCharts 

Why it Rocks:  Well, for starters, Dan Zarella pulled it together – so you know it will be packed with some really great data analysis!  TweetCharts is such a simple, yet powerful tool that allows you to easily pull data from Twitter and create your own custom reports.  Simply type in the keywords, phrases, hashtags, usernames, or URLs that you want to run an analysis on and click Go!  What it then provides back to you is insightful information about links, retweets, mentions, sentiment, replies, top sources, most mentioned users, top hashtags and much much more.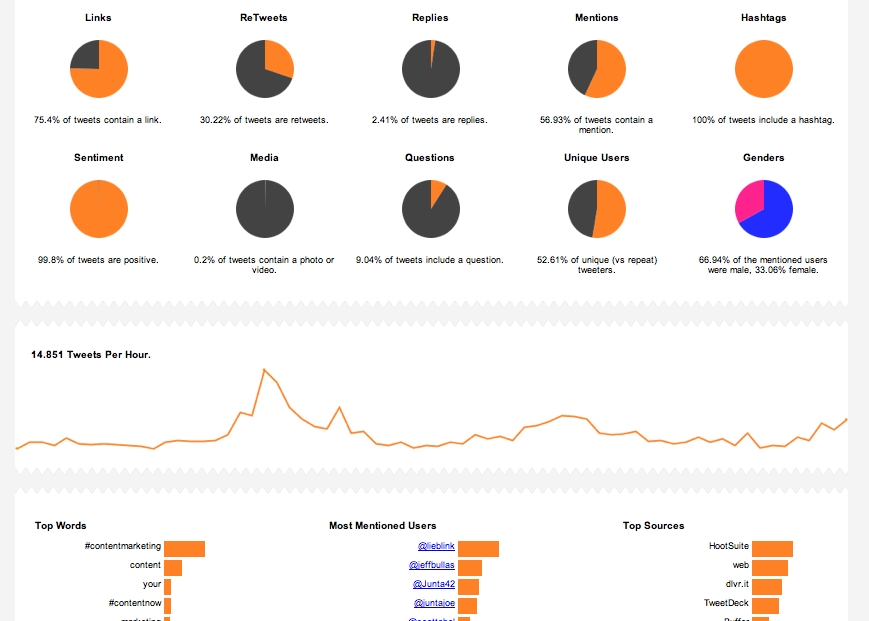 TweetCharts is still in Beta – so may be bit buggy, but with Dan Zarella backing this – it is sure to be a nice little robust data machine.  Check it out at TweetCharts and see for yourself.
I hope you find these new twitter tools as useful as I have.  I am always on the lookout for robust new tools, tips and techniques for simplifying social media.  These four tools certainly hit the mark for me.  I'd love to know what new tools you find most useful!  Please share your thoughts below.
Darcy Schuller is the President and Founder of Suvonni, an innovative digital marketing and brand strategy consulting firm in Chicago.  Darcy is passionate about helping clients build stronger brands through elevated customer engagement, social media marketing, content marketing and integrated marketing communications.  You can find Darcy on Twitter,  Google+,  Facebook and LinkedIn.