Marketing Tips and Takeaways from the Art of Marketing Conference with Keith Ferrazzi, Avinash Kaushik, Seth Godin, Gary Vaynerchuk, Mitch Joel and Randi Zuckerberg.
I was lucky enough to be in attendance at the Art of Marketing Conference held in Chicago on April 24th.  The event featured marketing heavy-weights Keith Ferrazzi, Avinash Kaushik, Seth Godin, Gary Vaynerchuk, Mitch Joel and Randi Zuckerberg.  Each of the speakers were fantastic in their own respect and I walked away with some golden nuggets of marketing wisdom and inspiration that I will pass along to you.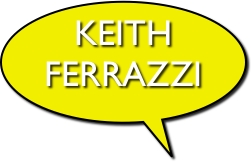 Keith Ferrazzi is a powerful and inspirational speaker and his books, Never Eat Alone and Who's Got Your Back, are a great resource for anyone looking to enhance the impact of their relationships.  Follow Keith and check out his latest initiative on Relationship Mastery for Mutual Achievement at myGreenlight.
Create a Relationship Action Plan.  Identify the 25 most important people to helping you achieve your life dreams and make an effort to connect, meaningfully, with them.  This holds true for companies as well.  Developing relationships and directing your loyalties towards these people will set you on the path to success.
Lead with Generosity, Intimacy, Candor and Accountability.  Be generous in your relationships and be the kind of person that people can count on.  When you lead by generosity, it gives you the permission to know someone and develop a deeper relationship with them.  Be thankful and appreciative and take the time to figure out how you can help others out.
Raise the Purposefulness of Relationships.  Connect your goals to the three people who can help you achieve each goal.  They are your lifeline.  By doing so, you align not only the "what" but the "who" and can begin to foster relationships that are critical to your success.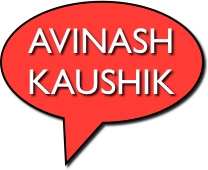 Avinash Kaushik is beyond passionate about data and his enthusiasm shines through as he talks about data being sexy!  Avinash's books, Web Analytics 2.0 and Web Analytics An Hour A Day are must reads for anyone in digital marketing.  Check out Avinash's blog Occam's Razor and open your mind to new ways of analyzing data.
Measure What Matters!  The top three things you should be measuring are Influence (where people spending their time), Experience (how are they spending their time) and Value (what is the outcome).  Influence is the Marketing, Experience is the Magic and Value is the Money!
Analysis Is Not One and Done.  First, don't just measure your own data!  Look deeper and change the lens of how you look at things.  Analytics is a process of measuring, valuing, testing and repeating the process until you get it right (or Understand, Test and Be Less Wrong!).  Avinash recommends making the most out of Data Driven Documents.
Top Four Social Media Metrics.  Where can you find your most bang for the buck in terms of social media metrics?  Measuring the conversation rate, amplification rate, applause rate and economic value are the top four metrics of success that your organization should stay on top of.  Learn more at TrueSocialMetrics.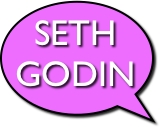 Seth Godin is a brilliant marketer, writer and thinker.  He is lively, witty and inspirational.  Seth has penned several amazing books including Linchpin, Tribes and most recently Poke the Box.  Seth Godin's Blog is a must read for any marketer!
Be Remarkable.  What makes someone or something remarkable?  Being worth making a remark about.  Simple.  Make something that people care about.
Revolution of Connection.  We are in a relationship based world.  This is based on the notion of "tribes" – we like being with people who we are in sync with.  Look at new ways to engage and interact with people.  Don't strive to be heard when you are here…work to be missed when you are not.
Go Make Something Happen.  Be artistic and original in your delivery.  Move away from "lizard brain" and all the things that create resistance.  Don't be afraid to take a risk.  Success is a stream of serial failures until you figure it out.
How else can I sum up Gary Vaynerchuk but as a blazing ball of crazy cursing fire (crazy in a really good way)!  Wow – Gary knows how to make an impact.  His books, The Thank You Economy and Crush It! will inspire you to do things differently.  Follow Gary for more inspiration.
The Biggest Cultural Shift: Internet.  We are going back to small town rules.  The Internet has amplified communication and brought the personal aspect back into business.  Engagement is critical to success.  If content is king, then context is God.  Bring relevance to your marketing, communication and engagement strategy.
The Thank-You Department.  Leave the defense to customer service.  Create a Thank You department in your organization that is the offense – that acknowledges people and helps you to develop relationships as opposed to transactions.
Scale 1-to-1 Relationships.  Word of mouth is more important than ever before.  Don't be hit and run with your engagement.  Make the effort to truly know your customers.  Make them feel special and give them a reason to be loyal to you.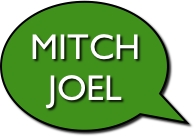 Mitch Joel is the real deal.  He is authentic and approachable and when he speaks, you are eager to hear more.  Mitch's book, Six Pixels of Separation is a great read for understanding how to get more connected.  Follow Mitch at TwistImage.
The Power of Direct Relationships.  In this connected world, you have to establish direct relationships with the people that will help you succeed.
One Screen World.  We are moving from a world of multiple devices to just one – and the one and only that truly matters is the one your customers are using.  The days of keyboards are numbered.  Mobile is a stronger force than ever before.
Active vs. Passive Marketing.  We are moving beyond the passive methods of marketing (tv, radio and newspapers) and moving more in the direction of active marketing (twitter, facebook, tumblr).  Focus on the interactive, live and engaging elements of marketing.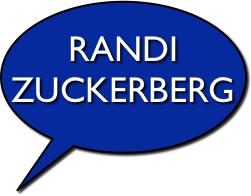 Randi Zuckerberg is vibrant, energetic and full of enthusiasm.  She is the former Director of Marketing for Facebook, helping to launch the company to where it is today, and has recently formed her own venture RtoZ Media.  You can follow Randi on Facebook
The Sharing Economy.  We live in a world of sharing (sometimes, yes, that includes over-sharing!).  The impact of word of mouth is both exciting and challenging for brands.  Balance is critical.
Crowd Sourcing Our Future.  The "we" mentality continues to gain traction and we see greater utilizing of crowd funding for sparking new ideas, pushing forward exciting new concepts and instilling a sense of belonging.  Just take a look at Kickstarter.
We Are Live.  From livestreaming to twitter, we have the ability to be present in the now.  To have our voices heard, by millions potentially, without delay.  Company's should take advantage of these opportunities to be more human and connect with their customers.
Final Takeaways: There were a few common threads woven between all of these speakers:  
Relationships matter more than anything in this digital age of connection. 
Social media has made us more conversational – more human. 
Find your inspiration.  Don't be afraid to fail.  Success is not a given – you have to work for it everyday. 
Darcy Schuller is the President and Founder of Suvonni, an innovative digital marketing and brand strategy consulting firm in Chicago.  Darcy is passionate about helping clients build stronger brands through elevated customer engagement, social media marketing, content marketing and integrated marketing communications.  You can find Darcy on Twitter,  Google+ and Facebook.