The Twitter for Business Trifecta
December 18, 2015 - Social Media Marketing, Twitter
Twitter for Business: 3 Ways To Derive The Most Value From Twitter
There are over 310 million active monthly users and over 500 million tweets sent daily (Sources: Twitter, May 2017). Smart companies, from large to small, are utilizing Twitter for business and marketing, in an effort to generate awareness and build their communities.

Without a doubt, there is a lot of activity on Twitter. It continues to be one of the largest and most active social platforms available, despite the challenges the company has faced over the past few years. In an effort to stay relevant, Twitter has been actively making smart moves over the last few months to make the service more user friendly. It's thinking outside of the "140 character" box and incorporating a more visually appealing interface, rich media integrations and enhanced ways for people to connect and engage.

Creating a winning Twitter strategy takes time and effort, but those who crack the code focus on 3 key areas. We like to call this the Twitter for Business Trifecta.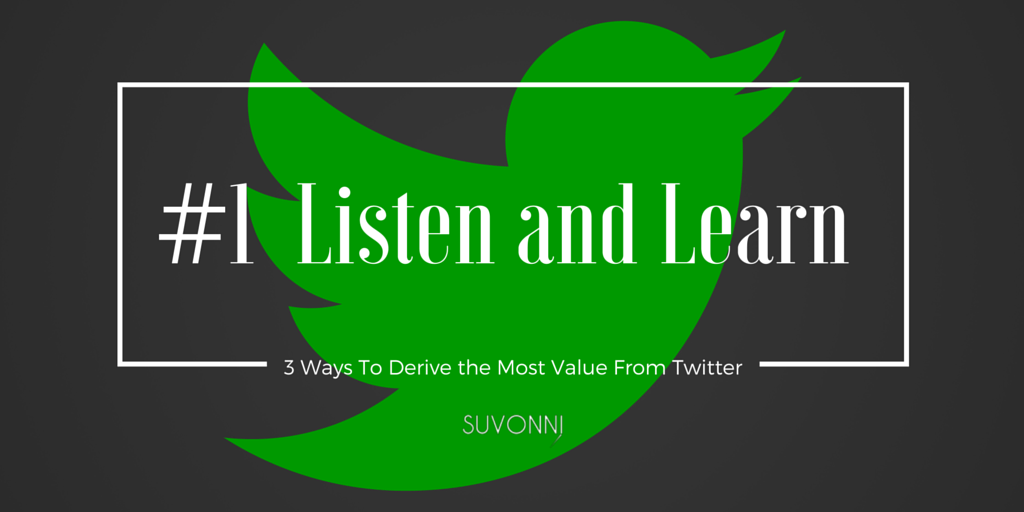 1. Listen and Learn
There is a lot of noise on Twitter. A lot. 500 million tweets daily! What does that mean for using Twitter for business purposes for your brand? A couple of things. Twitter is a treasure trove of information. You can learn about your community, your industry and trending topics to better formulate your own Twitter strategy. Don't just think about Twitter as a publishing platform. Listen and learn on Twitter and do it often. Monitoring what is happening on Twitter before you jump into the conversation is a good habit to get into. Some examples of how you can derive value from Twitter by listening and learning:


Follow your target customers to learn more about what they tweet about 

Add your competitors to a list, without following them, to track what is working and what isn't for them

Follow industry influencers to better understand how they stand out and what their followers respond to

Follow conversations using relevant hashtags

Keep a list of those who engage with you (by mentions and/or likes)

Track Tweeters by location (great for local businesses!)

Segment your audiences by lists for easy access and future engagement

Use Twitter Advanced Search to focus your search by target keywords, locations, time frames and more

Use Twitter Analytics to see details about your top engagers, your top tweets, impressions, your audience and much more
Hint–> Use IFTTT to automate the process for many of these!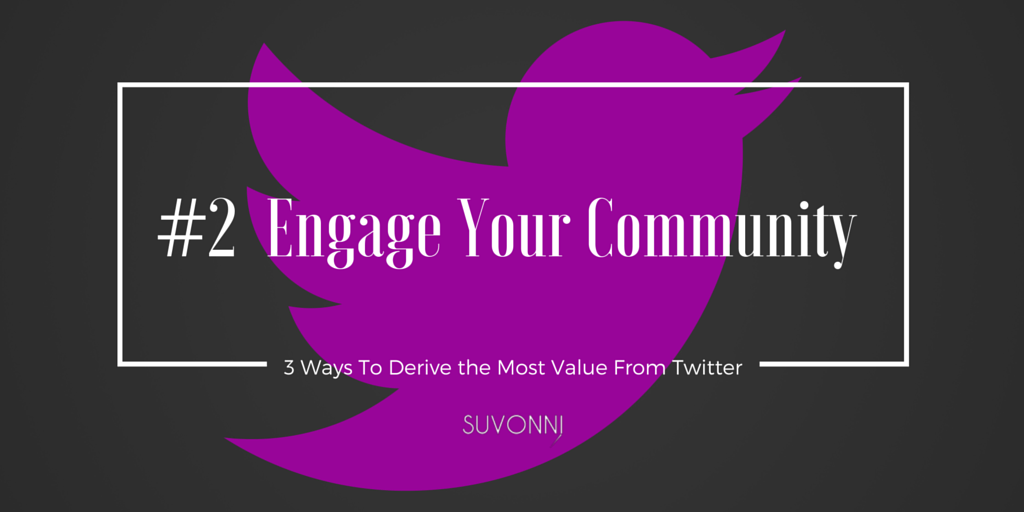 2. Engage with your Community
One of the greatest and most rewarding aspects of Twitter is the ability to engage with your community. This obviously requires your business to build a community first. Read: This DOES NOT equate to building followers. As the old saying goes… quality over quantity. While social proof carries some weight and validity, it does not necessarily equate to quality and value. Would you rather have 100 targeted and highly engaged followers on Twitter or 1000 followers who never interact with you? By focusing on building your community, you take the numbers game out of it.

Engagement is a key factor in both building your community as well as sustaining it. You can begin to find and track your ideal audience by using the listening tools as noted above. It is highly likely that you will have several distinct sub-communities on Twitter as well. Taking advantage of Twitter lists is advantageous in keeping track of these distinct communities. By segmenting your communities into groups by lists, you can target your communications and engagement with people based on their interest with you.

Creating an engagement strategy for Twitter is a wise move that will keep you on track and accountable. This not only includes what engaging content you post to Twitter, but also how you engage and interact with your community. Ensuring that you instill your brand personality into your posts and reply's makes your brand or business more human. And that is exactly what makes the difference in using Twitter for business successful or not. Successful Twitter engagement strategies typically include the following:


Have a completed, creative and on-brand Twitter bio, profile picture and cover image

Recognize your new followers by welcoming them to your community or saying thanks (not in an auto DM!)

Thanking those that retweet you or mention you with a shout-out tweet or video response

Monitoring and answering questions on Twitter pertaining to your brand, your products or services, your industry or your area of expertise (Provide Value)

Participating in or hosting Twitter Chats and interacting with other hosts and participants

Retweeting or adding comments to others tweets often

Adding people to various lists with great names (i.e. Awesome Twitter Engagers) makes people feel good and more likely to engage with you

Keep your content fresh and engaging by posting a variety of media, from links and polls to videos and images

Be proactive in engaging with others instead of just reacting when others retweet or mention you

Ensure your tweets are less than 110 characters to allow for retweets and comments

Weekends are great for Twitter engagement – test different days and times for your tweets

Use relevant hashtags where applicable

Respond to your haters (not trolls) – acknowledgment goes a very long way and shows you care

Pin tweets to gain traction on your most important messages, giveaways and more

Use your bio link smartly – for campaigns, lead magnets or to attract people to your website

Utilize Twitter to find potential partners and/or collaborators

3. Share Your Thought Leadership and Provide Value
If you have done your homework and stopped to listen and learn on Twitter AND you have a solid engagement strategy in place…your next opportunity to derive value from Twitter is by providing thought leadership and value to your community. This does not mean sell, sell, sell and promote, promote, promote all the time.

Twitter is a great platform to share content that highlights your areas of expertise. It gives you the stage to provide value to the type of audience you are seeking to attract. The key is to provide this thought leadership in an interesting and engaging way that breaks through all the noise. Some key aspects of successful thought leadership on Twitter includes:


Plan for a balanced mix of originally created and curated content

Proactively answer questions on Twitter

Provide relevant and timely information that your audience will come to expect from you

Use Twitter Cards to help drive traffic to your website through rich media

Be visually appealing – share images, gifs and videos to stand out and be noticed

Utilize analytics to determine what type of content your audience responds to and adjust your content strategy appropriately

Knowing when to stay quiet – remember, "your ears will never get you into trouble"

Host a Twitter Chat or participate in a few actively and share your insights

Provide your view on current topics or relevant industry news items

Collaborate with other thought leaders or influencers on Twitter

Be gracious and giving more than you are asking

Summary
Are you using Twitter for business effectively? The Twitter Trifecta is 1) listen and learn first and often, 2) engage with your community and 3) share your thought leadership and provide value to your audiences.

  Click Here to Download our Free Content Marketing Guide    


If you liked this article, we encourage you to sign up for our  weekly Newsletter for all our updates!  Thanks for reading our blog!
YOU MIGHT ALSO LIKE THESE